Top Car Shopping Moments [Infographic] From The Automotive Path To Purchase
Google recently published information regarding the 5 Key Auto Micro-Moments Brands Should Win, from Google Think Auto, specifically geared towards the automotive shopper's path to purchase. Every car dealership should know these micro-moments to optimize their sites for prime positions in a car shopper's journey. We here at Pixel Motion take the importance of these Micro-Moments very seriously— as a website and digital marketing agency that provides innovative turnkey solutions to the automotive industry, we want to offer the best strategy to maximize these moments to the dealerships that entrust their sites to us. By optimizing mobile and digital interactions, we can enhance conversions and customer experience. Here's a run-down of the 5 Key Micro-Moments, and what they mean in terms of consumer behavior and conversions: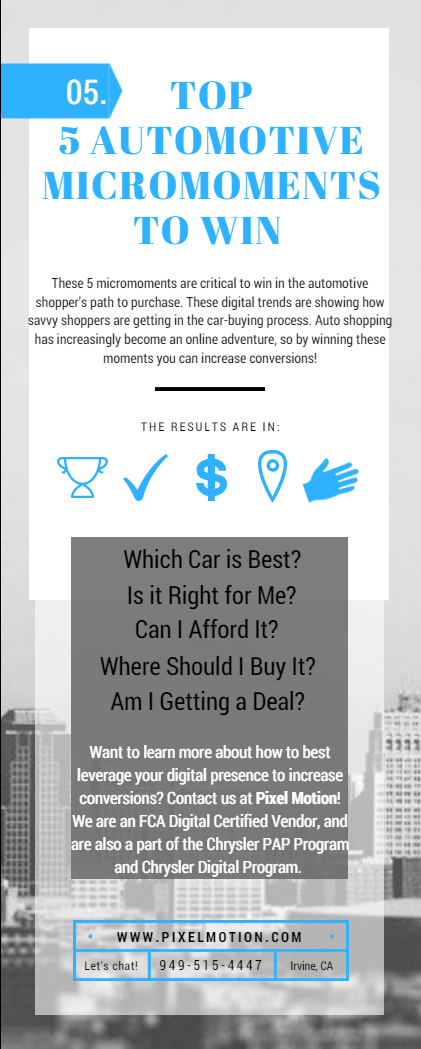 1. Which Car is Best?
Consumers are quick to determine which vehicle has the best specs, including all the bells and whistles that are important to them. Gone are the days where auto shoppers trust everything that dealerships tell them- now, they have information to back up their beliefs in terms of which vehicle pull ahead. They spend a lot of time prior to coming to the dealership doing research to determine which one is "best," and so winning these moments are crucial.
2. Is it Right for Me?
Car buyers want to know that the car they are purchasing will fit their budget, lifestyle, and needs. They are spending more time focusing on interior and exterior design, cargo capacity, and towing capacity to determine whether or not it will fulfill all of their expectations.
3. Can I Afford It?
Consumers want to know that they are not going to overstretch themselves when purchasing their new vehicle. Searching for MSRP's and list prices are at an all-time high, and are extremely high on mobile search, signaling that they are constantly comparing and researching, even while on the dealership's lot.
4. Where Should I Buy It?
This is very important, and one of the most important when it comes to dealerships. While a lot of the car-buying process has been shifted to online, no matter what, they will always have to come into a dealership to sign the papers and drive off with the car. This is an extremely important Micro-Moment to win, specifically for dealerships, because this could make or break whether you get the sale or not.
5. Am I Getting a Deal?
Above all, digital trends show that consumers really want to get a good deal, and they also want to feel like they are getting one. Using your phone while at the dealership to find the best deals could make or break sales, and they continually are checking their phones while at the dealership to confirm that they can't get a better price anywhere else.
Pixel Motion is a cutting-edge website and digital marketing agency, providing innovative turnkey solutions for the automotive industry since 2004. We have become an award-winning website provider and respected digital partner for companies such as FCA, VW, Google, and Facebook, and are an FCA Digital Certified Vendor, as well as in the Chrysler PAP program and Chrysler Digital program. We are headquartered in Irvine, CA, and proudly serve dealers all over Southern California, as well as the entire United States. Contact us today for a consultation or to learn more!